On Saturday, January 15th, the Nationals will almost certainly make official what has been rumored for months: when the international signing period opens, 17-year old Cuban outfielder Cristian Vaquero will be a Washington National.
Vaquero is a special baseball talent. Both of his parents were athletes in Cuba, and after Vaquero defected to the Dominican Republic to train and improve his baseball skills, scouts began calling him "El Fenomeno"– Spanish for "the phenomenon". He's a switch hitter with a smooth swing reminiscent of Bryce Harper's. Baseball America ranked him as the #1 international prospect on the market, while MLB Pipeline rates him only behind future Yankees SS prospect Roderick Arias. The icing on the cake? Being born in September of 2004, Vaquero is younger than I am. He is nowhere close to his athletic "peak", meaning he has lots of room to grow into an even better baseball player. Take a look at Vaquero's skills here –
International signings function very differently from all other rookie contract situations in the MLB. While all American prospects are drafted out of high school or college baseball, international prospects from baseball hotbeds like the Dominican Republic, Cuba, Venezuela, and Mexico can sign with any team during the international signing period. Each team is allotted $4.75 million in bonus pool money to sign international free agents. International free agents are typically signed when they are 16 or 17 years old, and most are not playing in professional leagues in their native countries when they sign with an MLB team. Therefore, it takes international players much longer to make the big leagues. Players get prolific signing bonuses when they agree with a team, although international rookie contracts typically run much lower than American ones.
The Nationals have a large advantage over other MLB teams during international free agency due to their prolific history of signing Caribbean talents, specifically from the Dominican Republic. It wasn't always this way; one of the more embarrassing moments of early Nationals history occurred when former GM Jim Bowden signed supposed top international prospect Esmailyn Gonzalez, although it was later revealed that Gonzalez (really named Carlos Alvarez) had faked his identity and was actually much older than he told the Nationals. Since, some of the team's best players have come from the international market. On the current active roster, Juan Soto, Victor Robles, Luis Garcia, and Yadiel Hernandez are all former Nationals international signings. Multiple top prospects like Andry Lara and Armando Cruz were also signed out of the Dominican Republic.
The opportunities to acquire a player with the supposed potential of Cristian Vaquero are limited, and the Nationals pounced on the chance to sign the Cuban with five-tool potential. The Nats also redirected a significant amount of international slot money away from another top prospect, Venezuelan outfielder Anthony Gutierrez, in order to maximize their chance to sign Vaquero. Gutierrez is now likely to sign with Texas. The Nats are reported to use their remaining money to sign left-handed pitcher Andy Marlon Perez. Perez is already 21 years old (the same age as Luis Garcia!) and played part of the 2018-19 season with Industriales in the Cuban National Series. His numbers weren't outstanding, but sportswriters praised Perez's curveball and noted that he has room to increase his fastball velocity after calling him a top Cuban pitching prospect.
The Nats' success in the international market is a reason to be excited for this team's future. Every year, Mike Rizzo and international scouting director Johnny DiPuglia make it a priority to invest heavily in the international market, and now for the second straight year, the Nats are heavily favored to land one of the consensus top five prospects. The Nats' 2025 "dream outfield" of Vaquero, Robles, and Soto consists entirely of international prospects scouted and signed by the Nationals' Latin American scouts when the ballplayers were just teenagers. DiPuglia, Rizzo, and Dominican Summer League manager Sandy Martinez have all done spectacular jobs developing young international talent into the Nationals' stars of the future, and I am optimistic that this success will continue.
Here's Vaquero in Nationals gear standing in between Juan Soto and Victor Robles. Folks, there's your outfield of the future.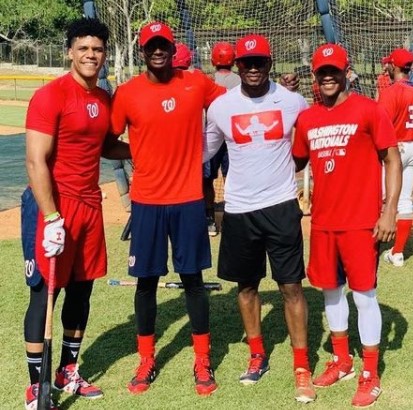 ---
---
Categories: Uncategorized